Greetings from the Great Smoky Mountains!
Greetings from the Great Smoky Mountains!
While I love and cherish every minute I get to spend in the theatre, it's also a lot of hard work – more than one might think. Back in May and early June, I was putting in about 12-15 rehearsal hours a week working on A Funny Thing Happened on the way to the Forum at The Cassidy Theatre as I mentioned before. And that's aside from the hustle and bustle of working a part-time job, taking voice lessons, trying to maintain a social life, spending time with family, and everything else that comes along.
After the show closed on Sunday, June 25, instead of auditioning for another summer production, I decided it was time to take some time away from the stage to recenter. And the training and practice never stops, mind you. I wake up every single day with one goal: To continue to grow as an artist and in some way work to refine my craft. However, stepping off of the stage for the rest of the summer was something I felt personally necessary. With college auditions coming up this fall, it's important that I don't wear myself too thin. So until school is back in session, it's time for some summer fun!
This week, I am writing from my family vacation in Gatlinburg, Tennessee, where we are staying for a week in a cozy cabin in the beautiful Smoky Mountains. It's absolutely beautiful here! The area is an absolutely perfect balance of tourist areas and a beautiful scenic view of the mountains in the Great Smoky Mountains National Park. You feel secluded and cozy. Yet, you're never more than five minutes from every restaurant you could ever want, and not to mention the huge variety of tourist attractions. It's a perfect vacation destination!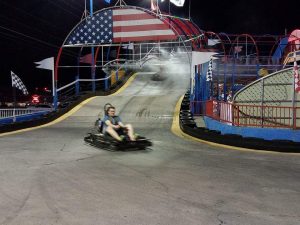 Having this time with my family is always something that I treasure. With theatre, school, extracurriculars, a job, and all the other inevitable factors of life, it can be hard to find time for anything at all. So I've decided to take advantage of this vacation and the rest of the summer while it lasts; notice the little moments, laugh with the people I love, and create memories that will last forever.
I look forward to returning to BHS in August. I definitely miss my theatre and choir families like crazy! That first time back on the PAC stage is always so refreshing, and going back into the choir room feels like coming home. However, until then, I'm going to make the most of summer vacation.
From here in Gatlinburg, Tennessee, I hope that everyone is having and continues to have a great summer! And please be sure to check back for more blogging before school resumes!!